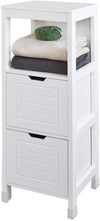 Freestanding Cabinet with 2 Drawers and Shelf for Bathroom
Features:
This brand new white freestanding cupboard will blend perfectly in your decor.
It has 1 shelf and 2 drawers, provides enough storage space for all your bathroom essentials.
Material: high quality MDF.
Load capacity: 10kg/tier.
Item comes in a flat pack and requires self-assembly. Detailed instructions supplied.
Specifications:
Item Dimensions: 30 x 30 x 90 cm
Item weigth: 13 kg
Package Dimensions: 98 x 38 x 7 cm
Package weigth: 11.7 kg
Package Content:
1 x Freestanding Cabinet with 2 Drawers and Shelf for Bathroom
Shipping
1.All products are shipped within 2-3 working days of payment clearance.  However, in some circumstances, it may take longer.
2.Wherever applicable, During Days will send tracking number once the item is shipped.  It will be customer's responsibility to track the item once it is shipped.
3.By default, shipping insurance is not available.  If customer wants to purchase transit insurance, they must contact us before making a purchase.
4.Once shipped, delivery may take anywhere between 2-10 working days depending your location and type of product.  If you do not receive your item after 10 working days of making payment, please contact the shipping company with the tracking number provided.  If you do not receive satisfactory response from the courier company, you may contact us onorders@duringdays.com.au.  Please quote your Order Number while sending this email.
5.We DO NOT ship to PO BOX address. Please provide your full delivery address at checkout.
6.If the item is being shipped to a business location, please clearly mention business name and contact person who will receive the parcel.
7.If no one is home to receive the parcel, the courier company may leave a card or if the item is small, they may also leave it in the letterbox.  If a card is left, it will be customer's responsibility to contact the courier company and reschedule another delivery time OR pickup the item from the respective courier office location.
8.Normally, all items sold in our website have FREE shipping.  However, there may be some exceptions and if shipping charges apply for an item, a shipping calculator will be provided in checkout page.
9.At customer's request, we may ask Courier Company to "LEAVE THE ITEM AT FRONT DOOR IF NO ONE IS HOME".  However, we cannot guarantee that shipping company will honour this request.  Also, if they do leave the item at the door and if the item goes missing or gets damaged, During Days will not be held accountable.  No refund or replacement will be offered in this scenario.